How does Stainless steel Passivation happen?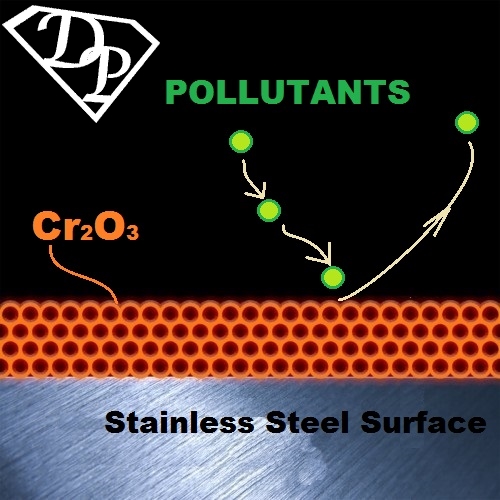 The passivation of stainless steel is an intrinsic property of the alloy: I am often asked: "What if the passivation process is not performed on the stainless steel?? The passivation of stainless is something that naturally occurs when the alloy is in an environment capable of bringing oxygen to the metal surface. The next question is: "So how is the passivation of stainless steel?" When oxygen – that comes from air, water (pure), from an oxidizing agent such as nitric acid (see ASTM A967) or from other sources – meets the stainless steel surface, it reacts with the chromium of the alloy forming the oxides and the compounds responsible of the passivation.
Main factor why the natural stainless steel passivation occurs is that the environment in which the passivation process takes place is free of pollutants, metal powders, chlorides, fluorides, sulfur, etc.
The industrial reality is quite different: although the sensitivity for the passivation is growing, there are hardly any areas where the steel is stored, processed and turned into departments and with dedicated tooling. Often sheets and stainless steel materials will be ground with the same tools used for carbon steel. The welding processes are not set on the best parameters, or economy of the protection gas. Not only that: just think that stainless steel, because undergo proper passivation natural, should be treated and turned into dedicated environments, so that even the mere fact of working the steel (albeit with appropriate tools) where abrade and weld metals different, leading to the possibility of polluting the surface, going to form galvanic micro-cells with consequent triggering of corrosion phenomena before the natural passivation takes place.
In the light of this series of rapid considerations, it is therefore good practice to find a way to passivate the stainless steel in an accelerated fashion, treat, therefore, the steel with products and systems that promote the formation of chromium oxide and lead to a more rapid passivation.
Methods to promote the passivation of stainless steel